Skirt making is a generally unappreciated pastime. I mean, it used to be make fabric-make clothes-wear clothes. Then seamstresses or slaves or servants and nowadays most people just go out and shop. Basically - clothing today has no personality or originality. For this reason I started making my own skirts. Also, sewing my own skirts gives me the opportunity to have my clothes the way I like them. I can make them longer - I can alter them - whatever I want goes.
Today's project is that of the pink shimmery skirt that I will iy"H be wearing to my friend's wedding at 19:00 tonight...
(I am aiming for my usual - easy and comfortable yet elegant style wrap-skirt. Simplest project of all.)
First things first. Find the material (Note the cat. He becomes a nuisance at a later point in this broadcast...)
Stage two - find a clean place to work. (Unfortunately my house is lacking in floorspace and even were there floorspace I would be hesitant to put my material on the floor... So, as you can see - I am going to 'make-do' and work on the too-small dining room table.) Spread out the fabric.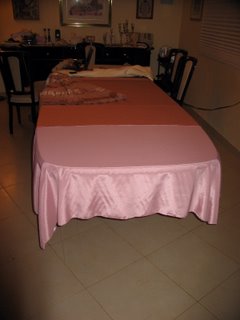 Step three, pin here and pin there. Pin the pattern to the fabric. But take care, don't pin yourself...
Next - CUTTING. First I would advise you to shake out the thing you just pinned and take a good look at it. If it's not pinned correctly and you just start cutting... Yeah, it could end up as a pretty sticky situation. So, shake and then if you are certain that everything is flat and lined up - cut, cut, cut...
Penultimate for now - cut out the 'waist band' and the 'strings' (or just the strings if you are too tired to do the waistband...)
The last step for now is the 'preliminary secondary pinning' - (for this project I will need to double-fold ALL hems and edges in order to prevent fraying and to keep everything neat looking.) So, I need to pin both sides from waist to floor and the bottom hem as well.
It's looking good so far, dontcha think?
More later... (When I wake up) at which point we will go and meet the Sewing Machine.